Portable Light Towers
Portable light towers don't create dark spots & have a greater level of illumination. Portable light towers have so many benefits but you need some specifications to purchase one. Most of the mobile lighting towers have wheels, but there are some which can be attached to different vehicles. Despite the Types, All mobile light towers need an electric power source or a generator to power an indicator. 
Portable lightning towers feature high-efficient light, durable fixtures, Weather resistance, efficiency & storage with 100 liters of fuel tank capacity, and run time up to 70 hours. 
Some mobile light towers generate up to five times more light using the same amount of energy.
Why You Need to Have Mobile Lighting Towers for Your Site 
 In the early 1990s working in low-light conditions was nothing new. Today, light towers are ubiquitous on our aging highways, and we frequently see teams of staff working late into the night to ensure that drivers have as little effect as possible.
Around the world, light towers provide lighting in difficult, even dangerous situations. With strong demand for project completion and constant night work to keep projects on track, we have a lot on our plate. 
There is a need for a long-lasting light source that can illuminate work areas efficiently. Staff would be able to finish work safely and easily at night, So the role of the mobile light towers have been increased day by day.
Can Mobile Light Towers Be Used as a Generator?
Mobile Light towers are diesel generators with a lighting component attached. In most instances and the power source for the running lights, the light tower has an additional power source. Most light towers can now be used as small generators, making them multifunctional structures.
Light towers are frequently overlooked on the construction site until they need to be turned on or off. However, when the sun begins to set, the light tower, like flashlights in dark alleys, becomes one of the most important products on construction sites.
Do Things Need to Check before Buying New Mobile Light Towers?
Mobile Light towers are an essential piece of equipment on construction, mining, and outdoor public event job sites, providing illumination for a variety of applications and projects that must be completed during hours of darkness or poor visibility. Most importantly, they ensure that workers can perform these tasks efficiently and safely.
LED Light Towers
To find the best model, consider the size and space that needs to be illuminated and the length of time the light tower will be in use. For example, if an area of no more than 4,000 m2 requires illumination for less than a day, a metal halide light tower is recommended because it is less expensive to install than an LED.
In terms of robustness, LED lamps outperform metal halide lamps, with an expected lifetime of more than 30,000 working hours. As a result, for extreme environments or heavy-duty use, such as in construction or mining, LED is the preferred choice because it provides enhanced coverage, lower fuel consumption, and longer operating hours
Power Source for Mobile Light Towers
When selecting a Mobile light tower, it is also important to consider how it will be powered. If there is easy access to an electrical power source at the job site, users may want to consider electric-only light towers, which represent the latest breakthrough technology due to their exceptional plug-and-light capabilities. 
They make it simple for users to connect to any single power source, such as auxiliary power, a small diesel or gasoline generator, or directly to the grid. Certain electrical light towers also have modular connectivity, allowing up to four light towers to be powered by a single generator. A power source for Portable light towers improves service and maintenance efficiency while also lowering the total cost of ownership. 
Furthermore, because their footprint is smaller than diesel options, electric-only light towers are not only quieter and more environmentally friendly, but they also ensure that lighting operations continue uninterrupted by refueling or additional maintenance required to service mechanical parts. 
Light towers powered by an engine or other sources of energy, such as diesel, are the best option when working in remote locations where access to electric power is limited or non-existent. However, it is critical to consider models with low fuel consumption to avoid constant refueling & help to ensure the plan is cost-effective.
Make Sure Your Investment Process Is Protected
Firstly, to determine whether a light tower is best rented or bought. For example, a model with characteristics for long-term efficiency could be better rented in the case of one-off road construction. 
Buyers can help secure investment throughout the entire lifecycle of a light tower in a variety of ways. It is extremely durable and provides excellent protection for internal parts… Specifically, they must ensure that the engine, alternator, panel control, and drain points are easily reachable, as access to those areas on certain light towers can take a lot of time.
So Which Mobile Light Tower to Choose?
Some years ago, a Portable light tower with a small life expectancy was considered a simple commodity product. Today, however, mobile light towers offer enhanced durability and value due to the many available options. 
For example, location, specific working environment, and environmental conditions, energy supply, site size, and required coverage. This ensures that customers end up with a mobile light tower that improves productivity, security, and visibility on site. For that reason, they need branded mobile light towers. Most people choose mobile light towers from SMARTA.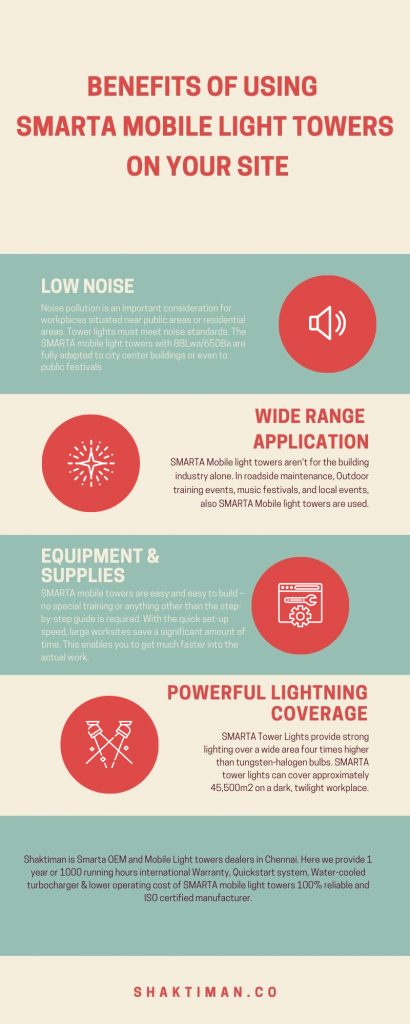 Benefits of Choosing Smarta Mobile Light Towers on Your Site
Powerful Lighting Coverage
SMARTA Tower Lights provide strong lighting over a wide area four times higher than tungsten-halogen bulbs. SMARTA tower lights can cover approximately 45,500m2 on a dark, twilight workplace.
Low Noise
Noise pollution is an important consideration for workplaces situated near public areas or residential areas. Tower lights must meet noise standards. The SMARTA mobile light towers with 88Lwa/65DBa are fully adapted to city center buildings or even to public festivals.
Wide Range Application
SMARTA Mobile light towers aren't for the building industry alone. In roadside maintenance, Outdoor training events, music festivals, and local events, also SMARTA Mobile light towers are used.
Fast Easy Setup 
SMARTA mobile towers are easy and easy to build – no special training or anything other than the step-by-step guide is required. With the quick set-up speed, large worksites save a significant amount of time. This enables you to get much faster into the actual work.
Shaktiman is a SMARTA OEM and one of the leading Mobile Light towers dealers in Chennai, supplying across the country. Here we provide 1 year or 1000 running hours international Warranty, Quickstart system, Water-cooled turbocharger & lower operating cost of SMARTA mobile light towers 100% reliable and ISO certified manufacturer.