Are you looking for the best diesel generator price which suits your budget as well as requirement?. If yes, then you have arrived at the relevant article. In recent years there are different types of generators in the Indian market and the best-branded generator ruling the power solution industry.
Before Knowing about Diesel generator price . Understand there are top branded generators that will certainly suit your business, industry & your specific requirement.
Portable Diesel generators are usually meant for comfort & productivity. To overcome the power shortage, if generators purchased for residential it is for comfort & if it is purchased for commercial, then it is to increase productivity. The major difference between one's decision to purchase these portable generators is its Pricing. As the diesel generators are always profitable when it is purchased for a commercial or industrial purpose.
The Indian diesel generator market is being shared mainly by the following giants: Cummins, Caterpillar, Mahindra, Kirloskar, Ashok Leyland. According to finance experts' statistics, Indian consumer's preference for a particular generator brand depends on their pricing on product ranges they require. Most Consumers prefer Kirloskar & Mahindra if the range is between 5kVA to 25kVA. The 5kVA generator price to 25kVA generator price will match their requirement and the price is also low when compared to other kVA.
India's Top Brand Generators with its Price Ranges
Caterpillar: Caterpillar diesel generator price starts at Rs 8 lakhs and ends with Rs 15 lakhs From the ranges of  7.5kVA to 2000kVA
Cummins: Cummins diesel generator price starts at Rs 5 lakhs and ends with Rs 13.48 lakhs From the ranges of  125kVA to 1500kVA
Koel Green: Koel Green diesel generator price up to  Rs 2.5 lakhs to Rs 5 lakhs From the ranges of  40kVA to 1010kVA
Mahindra generator: Mahindra diesel generator price starts at 1.40 lakhs and ends with Rs.16.50 Lakh From the ranges of 5kVA to 3500kVA
These are the top branded Diesel generators in India. The reach of a diesel generators market is forecast to reach up to $21.27 billion globally in 2025 and 1,517.8 million in India.
As per the reports produced by Industry Experts in 2021, The phenomenal growth of the Diesel Generator Market is directly related to telecommunication and E-commerce.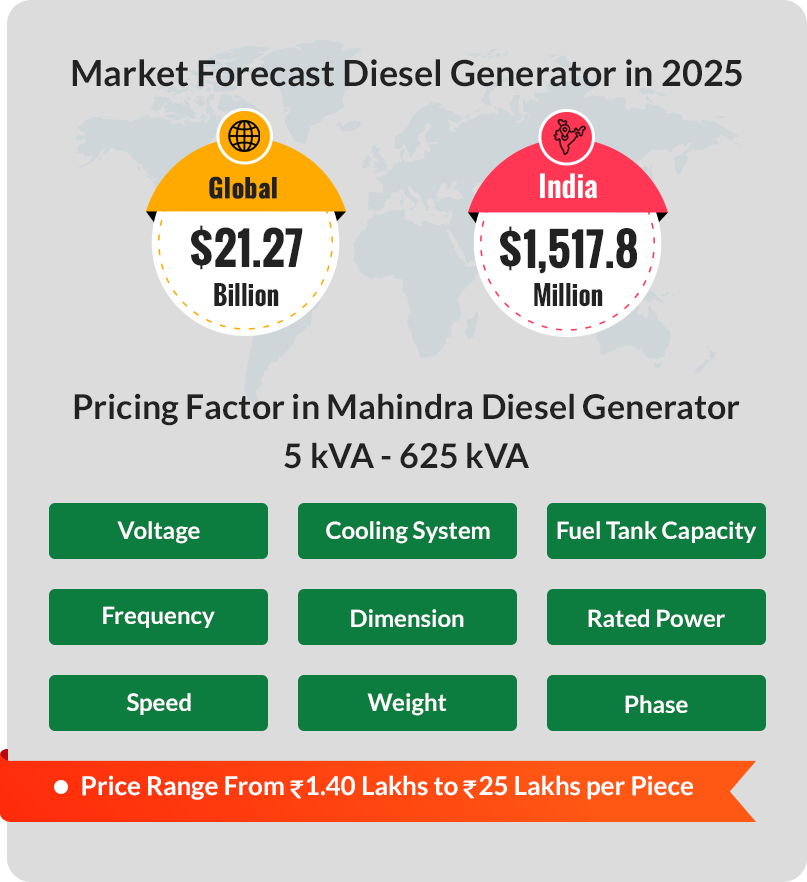 Why Do Industries Prefer the Mahindra Diesel Generator?
The Two Year Super shield Planning, an all-inclusive coverage, has been initiated by Mahindra Powerol, with no maintenance costs, no repairs, and zero spares replacement costs. They ensure complete peace of mind for the customer.
Mahindra diesel generators are in the 20 positions in India in the starting stage and later on, they build their customer and are ranked in the top 3 positions.
The growth of Mahindra diesel generators is unstoppable. Mahindra diesel generators are the first choice of telecom areas like Reliance Jio, Indus Towers, Bharti Infratel, Viom Networks, American Tower, Telesonic Networks, Etisalat, Ooredoo, Tata Tele, Vodafone, Nokia, BSNL, and MTNL across India and globally.
Products Details
5kVA  Generator Price: Rs. 1.40 Lakh (approx)
| | |
| --- | --- |
| Product Details | Features |
| Brand | Mahindra |
| Rating Power | 5kVA |
| Price | Rs. 1.40 Lakh |
| Usage/Application | Industrial |
| Approximate Dry Weight of DG Set | 225 Kg |
7.5kVA Generator Price: Rs. 2 Lakh (approx)
| | |
| --- | --- |
| Product Details | Features |
| Brand | Mahindra |
| Rating Power | 7.5kVA |
| Price | Rs. 2 Lakh |
| Usage/Application | Agriculture and Construction |
| Approximate Dry Weight of DG Set | 630 Kg to 800 Kg |
10kVA Generator Price: Rs. 2 Lakh (approx)
| | |
| --- | --- |
| Product Details | Features |
| Brand | Mahindra |
| Rating Power | 10kVA |
| Price | Rs. 2 Lakh |
| Usage/Application | Construction |
| Approximate Dry Weight of DG Set | 630 Kg to 800 Kg |
15kVA Generator Price: Rs. 2 Lakh (approx)
| | |
| --- | --- |
| Product Details | Features |
| Brand | Mahindra |
| Rating Power | 10kVA |
| Price | Rs. 2 Lakh |
| Usage/Application | Industrial and Power |
| Approximate Dry Weight of DG Set | 630 Kg to 800 Kg |
20kVA Generator Price: Rs. 2.90 Lakh (approx)
| | |
| --- | --- |
| Product Details | Features |
| Brand | Mahindra |
| Rating Power | 20kVA |
| Price | Rs. 2.90 Lakh |
| Usage/Application | Industrial |
| Approximate Dry Weight of DG Set | 800 Kg to 940 Kg |
25kVA Generator Price: Rs. 2.90 Lakh (approx)
| | |
| --- | --- |
| Product Details | Features |
| Brand | Mahindra |
| Rating Power | 25kVA |
| Price | Rs. 2.90 Lakh |
| Usage/Application | Construction |
| Approximate Dry Weight of DG Set | 800 Kg to 940 Kg |
In case you want to know full detail about the
Diesel generator price in Chennai
Reach Shaktiman. Because we are the best generator dealer in Chennai